Elegy created by koloup 9 years ago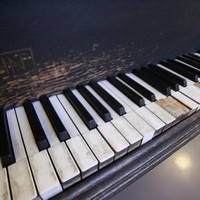 Remix
Genre:
Ballad
Mood:
Longing/Anticipating
Theme:
Other
Johnny Cash is an American country legend. He is known as "The Man In Black" for his straight black apparel at every concert. He helped define country music, especially in his early years. In his later years, however, Cash became somber and many of his songs reflected this, progressively becoming slow ballads more than his famous steady country songs.
This is a tribute to the Man in Black, an incredibly talented musician who is a huge inspiration of mine. I have set the song up in 3 different pieces. The first is a rather fast paced rift, the second is a slow medley, and the third is a underlying guitar solo. Make sure to check out all three parts, they are very different! This song was incredibly difficult to create due to the nature of Musicshake's block system and sounds, however I hope it turned out well. Please enjoy my latest song: Elegy, a dedication to Johnny Cash.