Far from the Madding Crowd created by QuackQueen 5 months ago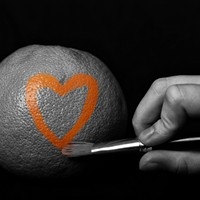 Genre:
Ballad
Mood:
Warm/Comforting
Theme:
Movie
Scond track off the "Orange Heart" series.

FAR from the MADDING CROWD

After all the heartaches, losses, and "win"s... there he stood in the middle of the forest, smiling at the sinking sun shining its way through his blurry vision. He had to see what would be left if everybody left, hoping that it would be his own essence. He had to take everybody off of his soul, heart, and mind, one by one - so he did. He did. All the noise disappeared; and right at that moment, he heard a beautiful voice. He looked around to catch a glimpse of the source, but green was all he could see. Then it occurred to him; it wasn't meant to be seen, but to be felt. As soon as he closed his eyes, he could hear the voice again. Slowly leaning on the grass in shock, he kept singing to himself.